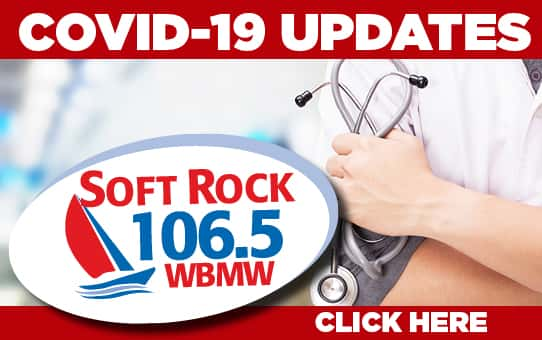 April 1
8:30 a.m.
North Haven police said nine people in town have now tested positive for the coronavirus.
Police urged residents not to discard loose waste into trash receptacles, especially medical waste items such as gloves, gowns and masks.
"Our public works department has seen an increase in such items being thrown into trash receptacles," police said. "Please make sure these items are properly bagged before discarding them. Actions like this put our public works department at an increased risk."
8:15 a.m.
The state Department of Energy and Environmental Protection reduced the number visitors that can be at state parks.
DEEP said violators of the order could face fines and/or charges
Globally, the number of COVID-19 cases is expected to reach 1 million by the end of the week.
Experts said the virus could kill between 100,000 and 240,000 Americans.
The U.S. recorded a big daily jump of 26,000 new cases on Tuesday, bringing the total to more than 189,000. The death toll leaped to more than 4,000, including more than 1,000 in New York City.
March 31
4 p.m.
Gov. Lamont confirms 557 more coronavirus cases, bringing the total to 3,128.
Lamont reported 16 more deaths on Tuesday afternoon that had been reported in the past day. There were an additional 17 deaths that had been reported to the state medical examiner. The total number of deaths as of Tuesday stood at 69.
March 26
11 p.m.
The U.S. passed China with more than 85,000 cases, and Italy also exceeded 80,000, the three countries together accounting for almost half of the world's infections from the new virus.
9:15 p.m.
A patient at Connecticut Valley Hospital tested positive for COVID-19. The Department of Mental Health and Addiction Services said the person is a patient in the General Psychiatry Division of CVH.
8:45 p.m.
A Bristol postal worker has tested positive for COVID-19. The postal service believes the risk is low for employees at the office. They also said there's no evidence that COVID-19 can spread through mail or package.
8 p.m.
The town of Wolcott announced that a resident has died from coronavirus-related complications. The patient's age has not been released.
4 p.m.
Gov. Lamont said there are now 1,012 coronavirus cases, and 21 deaths. There have been 6,500 tests performed, but that will decline as tests will be reserved for those with serious symptoms. This is due to a lack of medical equipment needed to keep healthcare staff members safe.
He said "if you're coming to Connecticut, self quarantine for 14 days."
Lamont also says people should not gather in groups more than 5 people
He also said he's considering removing the tax on plastic bags at stores, as reusable bags could be a public health concern
3:45 p.m.
Town of Clinton reports first coronavirus-related death. The town manager said a woman in her 70s passed away at Middlesex Hospital.
1 p.m.
Gov. Ned Lamont submits request to the Federal Emergency Management Agency (FEMA) for a presidential major disaster declaration resulting from the impact of the COVID-19 pandemic on the state of Connecticut.
11:30 a.m.
The City of Stamford reported that former Board of Representatives member Anthony Spadaccini died on Wednesday due to coronavirus complications.
11 a.m.
The Town of Durham announced its first case of COVID-19.
First Selectman Laura Frances alerted the town.
"We knew it was only a matter of time before there was a confirmed case in Durham, given that community spread has already been established in our region," Francis said. "We must assume that there are other cases already in our community at this time, and that the number will increase. If someone is sick with a fever and has a cough, you need to assume they have COVID-19. I strongly urge all Durham residents to heed instructions by public health officials to 'flatten the curve' and slow the spread of the disease by practicing social distancing."
9:25 a.m.
Bristol's mayor confirmed the city's fourth case of COVID-19. The number involves two residents and two people who work in the city.
8:30 a.m.
12 a.m.
The U.S. Senate passed a $2.2 trillion stimulus package.
March 25
7:15 p.m.
State police announced that there are four positive cases of COVID-19 within the agency.
The four cases consist of a trooper from Troop G in Bridgeport, Troop L in Litchfield, the training academy in Meriden, and a recruit from the 129th Training Troop which has been training remotely.
All are doing well and are expected to make a full recovery.
6:30 p.m.
The second Department of Correction employee has tested positive for COVID-19.
The custody staff employee was assigned to the Corrigan-Radgowski Correctional Center in Uncasville. The employee last entered the facility on March 21.
No other staff members or offenders at the facility have tested positive.
The employee's assigned post for the last five days worked was in areas of the building which required minimal interaction with the offender population.
4 p.m.
Gov. Lamont gives an update saying 875 COVID-19 cases, 106 hospitalized, 19 deaths. He adds that the majority of fatalities are older than 75 years old
DECD Commissioner discussed a small business loans, saying it is available for businesses with up to 100 employees, no interest for 18 months, money for 3 months of operating expenses, capped at $75,000, applications will be processed on Thursday
3:30 p.m.
New Haven has its first coronavirus-related death. No information regarding the patient has been released at this time. Mayor Justin Elicker is expected to give an update at 4 p.m.
3 p.m.
New data put out by the Dept. of Public Health shows 875 coronavirus cases as of Wednesday afternoon, and 19 deaths
1:30 p.m.
The University of Connecticut announced that it will be giving refunds to students who board and who were part of its Education Abroad program.
11 a.m.
The Connecticut State Colleges and Universities system announced that students who were kicked off campus and moved to online classes would be eligible for a credit.
The Department of Labor also announced that it is taking steps to address its overloaded system. It said the system became bogged down due to a spike in applications for unemployment benefits. It could take up to three weeks for payments to be dispersed.
6 a.m.
Worldwide, more than 423,000 people infected and more than 18,000 deaths. More than 108,000 people have recovered so far, mostly in China.
South Korea will provide testing materials to U.S. in response to President Donald Trump's request for help.
March 24
8:50 p.m.
The Archdiocese of Hartford has extended the cancellation of public masses from April 3 until April 30 at churches throughout Hartford, Litchfield, and New Haven counties. This includes the liturgies of Holy Week and Easter.
5:15 p.m.
The Judicial Branch says a staff member tests positive for COVID-19. The employee is a Judicial Marshal assigned to the Litchfield Judicial District courthouse located at 50 Field St., Torrington. The marshal hasn't been to work since Friday and had been assigned to the control room, which is located in the basement of the building, where there is no public access.
A statement released said "The Judicial Branch takes the safety of its employees and members of the public seriously. The area where the individual worked has been cleaned and disinfected. In addition to the normal cleaning procedures, which remain in place, all Judicial Branch locations are now also receiving disinfecting cleaning nightly. For court locations, in addition to the normal cleaning routine and nightly disinfecting, additional disinfecting cleaning is occurring during the day as well. The disinfecting cleaning places special emphasis on high touchpoint areas."
4 p.m.
Gov. Lamont said there are now 618 coronavirus cases in the state, with New Haven County more than doubled. There have been 12 deaths as of Tuesday.
He added that 71 people are hospitalized, and more than 5,300 tests have been conducted statewide.
To see the latest statistics, click here.
12 p.m.
In a radio interview with WCBS, Gov. Lamont said Connecticut schools will likely be closed until the fall. On Monday, he said schools would be closed until at least April 20.
A statement from his office said "The Governor is looking at this public health crisis as potentially lasting a longer period of time than initially thought, which he has said publicly before and is consistent with federal CDC suggestions of class cancellations for up to 6-8 weeks. The goal is to have frank discussions with superintendents and the education community as this situation unfolds. Governor Lamont is telling school systems they must be prepared for a potentially unprecedented break from classes being held in schools as a result of the coronavirus to ensure students, teachers, staff, and parents are safe."
11 a.m.
Hartford HealthCare said it is bracing for a surge in patients. The number of cases is expected to significantly go up. It said the virus is affecting almost all communities in Connecticut.
The criteria for screening for COVID-19 was also changed after a number of patients experienced abdominal pain and diarrhea.
March 22
Governor Lamont announced he will be sending out a message warning residents to "Stay Home, Stay Safe."
4:55 p.m.
Officials in New Haven confirmed two new cases in the city, bringing the total number to 12.
A homeless man that tested positive had escaped care at the hospital and is now in police custody.
A child has also tested positive for COVID-19.
3:50 p.m.
Town officials announced two new cases of coronavirus in Stratford. A male in his 40s and a female in her 80s have tested positive.
Officials say the child that previously tested positive has recovered.
2:55 p.m.
Officials with Day Kimball Hospital confirmed that an obsetrics and gynecology physician tested positive for the coronavirus on March 19. The Day Kimball Hospital is working to contain the case and safeguard the well being of its patients, volunteers, visitors, and staff.
2:50 p.m.
Fairfield University announced online classes will continue for the rest of the spring semester.
The school's residence life team will contact students on Monday with instructions on when students can pick up their belongings.
The 2020 Commencement will not be held in May as scheduled, but the school is making arrangements for them to be held at a later date.
2:45 p.m.
Officials confirmed there are 5 patients at the Evergreen Health Center in Stafford Springs that tested positive for COVID-19. Four patients are in the center and one is in the hospital.
1:25 p.m.
The Newtown Health District announced the town's first case of COVID-19. Officials say that the patient, a woman between the ages of 25 and 49, is currently isolated and recovering at home. The district is also working on notifying all those that have recently come in contact with her.
8:05 a.m.
New Britain Mayor Erin Stewart announced on Twitter the city's first confirmed case of coronavirus. Mayor Stewart says that they were treated at UConn Medical Center and were later released. They are now quarantined in their home for 14 days and are working with the city's public health department. Mayor Stewart adds that the party is resting and doing well
March 21
March 21
2:35 p.m.
The University of Hartford says remote instruction will continue through the end of the Spring semester. Students that remain on campus during Spring break have been asked to return home. Click or tap here for additional information.
9:30 a.m.
Connecticut's Department of Revenue Services (DRS) is extending the filing and payment deadline for personal income tax returns 90 days, to July 15, 2020. The extension also applies to Connecticut estimated income tax payments for the first and second quarters of 2020. For more, click here.
March 20
8:15 p.m.
Governor Ned Lamont announces the fourth patient to die of COVID-19 in CT was a woman in her 80s who had been living in her private home in Norwalk. She was receiving treatment at Norwalk Hospital.
7:45 p.m.
Bristol Health announces an employee has tested positive for COVID-19. The employee has been notified as well as any co-workers or patients the employee may have had contact with.
3:30 p.m.
Governor Ned Lamont announced the fourth coronavirus-related death in the state. The number of positive cases has risen to 194: 122 in Fairfield County; 29 in Hartford County; 8 in Litchfield County; 23 in New Haven County; 8 in Middlesex County; 4 in Tolland County; 1 in New London County, 2 in Windham County.
40 people have been hospitalized in connection to the virus.
Gov. announces Stay Safe, Stay Home policy, ordering non-essential businesses to close, those over 70 to stay home. Essential businesses would include: food, grocery stores, healthcare, pharmacies, gas stations. This goes into effect Monday at 8 p.m.
Thousands of people around Connecticut are without work due to the coronavirus outbreak. The increase in unemployment came from the closures or scaling back of businesses after warnings from state leaders. Officials with the Connecticut Department of Labor said it sees roughly 1,000 people apply for unemployment within a weekend – by Monday morning, nearly 8,000 had come in. Most applications are coming from those in the hospitality, education, seasonal industries, and from private companies that service schools. Those families are not unsure when or where their next paycheck is coming from.
Governor Ned Lamont of Connecticut, Governor Andrew M. Cuomo of New York, and Governor Phil Murphy of New Jersey today announced a regional approach to combating the novel coronavirus – or COVID-19 – throughout the tri-state area.

These uniform standards will limit crowd capacity for social and recreational gatherings to 50 people effective 8PM tonight. This follows updated guidance that the U.S. Centers for Disease Control and Prevention issued yesterday recommending the cancellation or postponement of in-person events consisting of 50 people or more.

The three governors also announced that restaurants and bars that serve food will temporarily be required to move to take-out and delivery services only. Bars that do not serve food will be required to temporarily close. These measures will take effect at 8PM tonight.

Finally, the three governors said they will temporarily close movie theaters, gyms and fitness centers, and similar public workout facilities and studios. New York and New Jersey will close commercial casinos effective at 8PM tonight. Governor Lamont will do the same for the state's physical off-track betting facilities, noting their willingness to voluntarily close. In addition, Governor Lamont and Governor Cuomo are strongly urging their tribal partners to close tribal casinos.

This uniform approach to social distancing is meant to slow the spread of the novel coronavirus or COVID-19

President Donald Trump told lawmakers he wants a payroll tax cut that would last at least through the election to give consumer spending a jolt as the coronavirus threatens to cripple economic growth. The president told Republicans at a closed-door lunch Tuesday that he wants the payroll tax rate to drop to zero through the end of the year, according to a White House and a Senate official.

The number of confirmed coronavirus cases in Connecticut is on the rise. State officials confirmed 21 residents have now tested positive for COVID-19 in Connecticut. Health officials said a patient tested positive at UConn Health on Saturday but was discharged from the hospital. The patient and his family were directed to quarantine. UConn Health followed all precautions recommended by the CDC to protect our staff, visitors, patients and learners. Upon arrival the patient was identified and managed as a possible COVID-19 patient and as such all appropriate precautions were taken. Fortunately the patient is doing well and all notifications have been provided to the local and state public health authorities. Governor Ned Lamont said there are now 15 confirmed cases in Fairfield County, 3 cases in Litchfield County, 1 in New Haven County, and 1 in Hartford County.

A city man in his 40s is Norwalk's first confirmed case of coronavirus. Mayor Harry Rilling said the man contacted city health officials about his diagnosis. During a press conference Saturday at City Hall, Norwalk Director of Health Deanna D'Amore encouraged residents and business owners to limit social gatherings.

Yale says that a member of their community has tested positive for coronavirus on a preliminary test. Yale-New Haven Health officials say that its Chief Nursing Executive has tested positive. She is now self-isolating at home. Another Yale-New Haven Chief Clinical Officer has tested negative but is self-quarantining at home as a result of his wife's tested positive. All three patients are under the care of physicians at Yale-New Haven Health.

First responders were called to an inbound plane at Bradley International Airport on Saturday morning where a passenger was experiencing mild flu-like symptoms. Just before noon, the airport's AARF department responded to a Spirit Airlines flight that had just landed at Bradley. The passenger was evaluated, but it was determined the passenger did not require further medical attention. The passenger was taken to a nearby hospital.  No other operations at the airport were impacted.

The Mass Gaming Commission has voted to temporarily close all casinos in the state of Massachusetts. The decision was made during an emergency meeting Saturday morning. MGM Springfield, Encore Boston, and Plainridge Park Casino will also cease operations immediately and officials will reevaluate the situation in two weeks. This story is developing and we will provide you with the latest update as soon as more information becomes available.

The Department of Social Services is making changes to Medicaid and Husky Health Program to offer more services, specifically focusing on telemedicine services, including real-time video conferencing with health care providers for medical and behavioral health services. This will affect some 850,000 people enrolled. State leaders said they are working with federal partners and hope to announce more benefits going forward.

The state is making changes to the Small Business Express Program, deferring loan payments for three months. Officials said that means an estimated $5 million in loans will be deferred and no interest will accrue during that time. The state said they are also working on a broader package to help both businesses and individuals through the uncertainty and disruption.

Starting Monday, more than half of Connecticut students won't be in school. Thousands of those students rely on the Federal School Lunch and Breakfast Program for two meals a day. The State Department of Education is working with school districts and community organizations that worked on the summer meal program last year to continue the distribution of those meals.

According to the South Windsor town manager, officials are monitoring a presumptive case of COVID-19 in town.  In a letter to residents Friday evening, Town Manager Michael Maniscalco confirmed the presumptive case, which he said means the individual is showing symptoms of COVID-19 and is in quarantine, but has not yet been tested.  Another person is in self-quarantine but is not showing any symptoms.

President Trump has declared a National Emergency

Connecticut officials banned utilities Friday from shutting off services to customers and warned of heavy demand for absentee ballots in the state's upcoming presidential primary as hospitals braced for more patients with the coronavirus.

Governor Lamont issues new order prohibiting gatherings of over 250 people

Governor Lamont waived mandatory 180 day rule for schools. Schools can decide if June 30th will be their last day if they do not reach the threshold prior.

Live Nation recommending suspending all tours through April

Disneyworld/Disneyland both shut down operations

 All jury trials, civil and criminal, in state courts are suspended for 30 days — minus current cases in progress.

The DMV is ordering a 90- day extension on all license renewals

NBA suspended (per NBA Commissioner Adam Silver) at least 30 days. – MLB suspended till further notice. – NHL suspended till further notice – XFL suspended- till further notice – March Madness canceled – Masters postponed – MLS suspended 30 days – Champions League canceled – SEC, AAC, ACC, Big 10, Pac-12, Big East, Ivy League tournaments canceled – Premier League suspended until April – NFL cancels league meetings