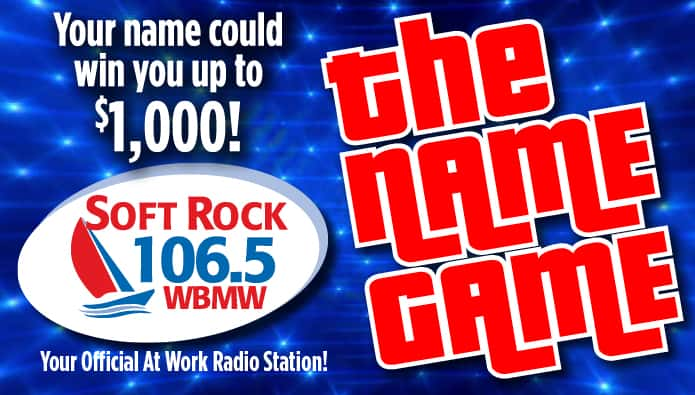 SOFT ROCK 106.5 WBMW IS HERE TO LINE YOUR POCKETS WITH CASH!

WE'RE TALKING ABOUT WINNING UP TO $1000!

THE SOFT ROCK 106.5 NAME GAME RETURNS THURSDAY, EVERYONE WANTS FREE MONEY! STAY HERE TO GET IT!

 IF YOU HAVE A NAME AND RESPOND WHEN WE CALL IT OUT, YOU WILL WIN SOME CASH!

FILL OUT THE FORM BELOW TO GET ENTERED

THEN STARTING THURSDAY, LISTEN WEEKDAYS AT EIGHT, TEN, NOON, TWO AND FOUR BETWEEN TEN AND QUARTER PAST EACH HOUR. WHEN YOU HEAR YOUR NAME, CALL 860-464-1065 WITHIN 10 MINUTES TO WIN.

THE TIME IS RIGHT FOR YOU TO WIN! THE NAME GAME ON SOFT ROCK 106.5 WBMW, YOUR AT WORK….FREE MONEY STATION!!
Click Here For Contest Rules